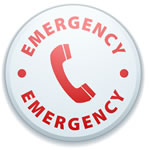 Emergency Refrigeration and HVAC Services Ohio
A sudden breakdown of a supermarket or restaurant refrigerator is a very costly problem. Many businesses rely on their HVAC units to stay operational. That's why Comfort Refrigeration offers 24-hour emergency services for Ohio businesses.
Our service department provides big-time service with a small town neighborly feel. No job is too big or too small. We realize cooling systems are often a vital component of a business. We can solve your equipment problems quickly and professionally. Your companies productivity is foremost to us. Ultimately, the best way to ensure that equipment is kept in good working condition is to perform regularly scheduled maintenance on the equipment. However, if a problem does arise we have 24-hour service with no answering machines or answering services.
You get a live person and real service every time you call! Our response time is normally 2 hours or less from the time you call until one of our techs is at your facility.
Phone: 800-971-2747